Inquire About Our Services
707.745.0924
What Our Clients Are Saying About Us
Reputation Reviews
Benicia Property Management
Let us manage your Benicia rental property
A Tradition of Excellence, Integrity, Knowledge and Service for over 60 years.
At Estey Real Estate, we know what works. We've developed a proven, hands-on approach to management that's served the community for over 60 years.

Estey agents are current in all areas of Management and we are 100% committed to serving our clients. Contact us today and make Estey Real Estate your Benicia property management company of choice.
Trusted by homeowners, investment owners, real estate professionals and developers, we are committed to excellence and the highest quality of customer support. Please review our services by clicking on the topics listed below.
California has the most stringent real estate laws in the country. Protecting your asset(s) is critical and proper knowledge of California real estate laws is essential. At Estey, we make sure that every level of concern is managed with proper documentation and expert knowledge to protect your interests. Call Estey before you take steps with your real estate, personal or investment, to make sure they are the correct steps: 1031-exchange, title transfer, estate planning, investing, leasing or selling.
Why Hire a NARPM Manager
NARPM® property managers have heightened expertise and industry knowledge to assist them in doing the best possible job. They are real estate professionals who know first-hand the unique challenges of managing rental property in today's constantly changing economic and legislative environment. And they know how to manage those challenges to everyone's benefit. They can maximize rents and income for you; and they will manage the property efficiently, professionally and economically.
KNOW THE DIFFERENCE?
A NARPM® member stands apart from other property managers and landlords. Unlike many of them, NARPM® members:
Have access to numerous educational opportunities.
Adhere to the highest Standards of Professionalism and Code of Ethics.
Know the landlord/tenant laws for your city, state and federal governments.
Know rent values and vacancy factors.
Have rental applications and consistent screening policies to meet legal obligations
Perform thorough move-in and move-out property evaluations.
Are personally familiar with reputable painters, electricians, roofers, chimney cleaners, carpenters, landscapers, furnace and appliance repairmen, and other maintenance professionals.
Are able to effectively negotiate with tenants, handle difficult issues and enforce the terms of the rental agreement.
Have the ability to recover NSF checks, evict tenants and collect bad debts.
Marketing
Marketing is key to successful sales and rentals. Estey Real Estate provides a market analysis for each property either for sale or property management. With access to multiple listing services and
Appfolio
, we have access to data to assist in creating a marketing plan, analysis and other research to maximize your investment.
Our goal is to sell or lease your property as quickly as possible.
Rental property is listed on our website as soon as property data is collected.
Our highly visible yellow and black Estey signs are placed at the property.
Our website makes it easy to find your rental or home for sale 24 hours a day. We list with pictures and detailed information.
Our goal is to market your property quickly and we update our listings daily.
Our listings are transferred to over 70 online website search engines, and this number continues to grow, giving your property the maximum market exposure.
We can arrange and place advertising in the local paper if desired. However, we find internet visibility to be very effective.
We accept applications with a credit card deposit.
Applicant Screening
We process a complete credit report on each applicant over the age of 18. This report supplies us with the credit worthiness of this person, their amount of indebtedness plus job and rental history. The report verifies their employment, income payment records, unlawful detainers, eviction history, liens, credit scores, late payments, accounts opened, closed plus more.
This detailed report helps Estey find the best qualified resident for your property.
Eviction Protection
Exclusive to Estey clients is our Eviction Protection Plan (EPP). This is a benefit offered by Estey to our Estey filled and managed properties. Ask our property investment manager for details.
Handling Maintenance
Estey maintenance services are "on call" 24 hours a day:
Emergency maintenance calls.
Non-emergency maintenance calls.
Maintenance of property between tenants.
Appliance repair/replacement.
Large projects (roofs, remodeling, preparation for sale, insurance claims.*
Information Security
Our office staff is trained to protect your confidentiality. Your information is never released to anyone without your approval except as mandated by a court subpoena. Estey understands the importance of keeping all your personal information safe and secure. All your data is held in a secure environment. We do not sell our client information to third parties. We safe guard your information carefully.
Only trusted full-time employees have access to records. We are committed to protecting your information in every transaction, at every level. Employees and agents are required to honor our code of conduct which includes standards for protecting our client's confidentiality. We maintain policies and procedures covering the physical security of our office and records. Our physical, electronic, and procedural safeguards meet federal standards regarding protection
Find out about more about Consumer Protection and Protecting Against Identity Theft.
Credit Watch
Estey Real Estate and Property Management runs a credit report when an application is submitted for an available property.
There are three major credit agencies, each using slightly different system to evaluate and arrive at a credit score for each person (Equifax, Experian and Transunion). The score most people reference is the FICO score. The FICO score was developed by Fair Isaac and Company.
Each of these companies considers the data accumulated about you in your credit report. Some of the areas they use are:
How long have you had credit?
Do you pay your bills on time?
How much do you owe on each account?
How many open and active accounts do you have?
How many times your credit has been checked.?
Each of these items plus others are weighed to determine whether or not you qualify for the loan you are requesting. Plus, each company evaluates your credit differently. FICO scores range from 300 to 850, the higher the score, the better credit risk. Please be advised that some websites that advertise "Free credit reports" are not necessarily free.
You may keep abreast of your credit by running a free credit report from each agency once a year. Often people run credit reports from one of the companies every 4 months to check their credit report. For example: January 1 run a credit report using Equifax; May use Experian; September use Transunion, then in January start again with Equifax. It is free. If you use all three at one time, you cannot get a free report for another year.
AnnualCreditReport.com is the official site to help consumers to obtain their free credit report. You will never receive an email directly from the Annual Credit Report Request Service.
Accounting Services
Our state-of-the-art accounting system provides all the reports you need to track income and expenses as well as tax compliance.*
We provide tenant payments and reports to you on a scheduled date. Proceeds can be sent to you or your bank. We tailor our program to fit your needs. We can pay any or all of your bills, including utility payments, mortgages, insurance and taxes.
When your tenant vacates, we provide accounting of the security deposit. All appropriate charges will be assessed and any remaining amounts owed will be reported or pursued.
Tenant Placement
If you are a "hands on" investment owner and wish to manage your own property, Estey has a program for you. Estey has the expertise to show, screen and place the tenant. We are able to show the property quickly and comply fully with Federal Fair Housing Laws. We:
Inspect property and recommend maintenance.
Show your unit(s).
Creatively advertise your unit through the Estey website and connected network.
Place an ad for your home in our First Street Office window.
Thoroughly verify and screen the applicant.
Collect the first month's rent and security deposit.
Execute a California compliant lease/rental agreement with addendums.
Use a Professional Accounting system to transfer funds to you.
Transfer the original documents and pertinent information to you for your continued management*.
*Upon transfer, owner takes responsibility of following current tenant laws and future changes in the law.
Leases & Collections
Leases & Rentals:
All tenants are required to sign a rental agreement. Estey Real Estate has developed many clauses that protect both the owner and tenant. The required disclosures are included to insure compliance with Federal, State and local legal requirements.
Collections: Rents are due on the first and considered late if not paid by the third of the month. We are very proactive about rent collections and we will work hard to get your paid on time each month.
Banks and REOs
Estey can provide services to aid banks with Real Estate Owned (REO) properties.
Estey offers solutions to our clients by marketing the property for sale and managing the property while vacant. We offer:
lawn maintenance
general repairs and maintenance services
general contractor services
repair recommendations for increased value
interior surveys
Estey will also manage the property while occupied. We offer:
lease enforcement
maintaining security deposit
rent collection
eviction services
marketing property for lease or month-to-month
Estey can help builders sell homes they have built by managing the property to reduce the chance of foreclosure.
Benicia Area Information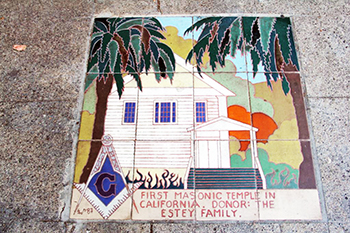 Benicia is a waterside city in Solano County, California. The town can be divided into four areas: the East Side, the West Side, Southampton, and the industrial park. Most of the town's older homes are on the east and west sides. Southampton contains primarily single-family housing developments and condominiums, most of which were built between 1970 and 2000. The East Side includes the Benicia Arsenal, a former United States Army armory, which was bought by the city and is now used for a variety of purposes, most notably as live-work spaces for artists. The Arsenal is home to several historic landmark buildings such as The Clock Tower, the Camel Barn, and the Commanding Officers Quarters . The industrial park lies to the northeast of the residential areas of the city, and includes the Valero oil refinery. The Benicia State Recreation Area is on the far west edge of the city.
Benicia is an active sailing community. In additional to individual sailing out of the Benicia Marina, there are several organized events and competitions. Regular art exhibits and public art openings in the Arts Benicia Gallery at 991 Tyler Street in the armory. Also an annual art auction in the fall, a spring Open Studios event, and many art classes for adults and teens. Benicia Peddler's Fair is an outdoor event that began in 1963 with a few collectable and antique stores displaying their items on tables outside St. Paul's Church. Today, over 300 antique and collectable dealers as well as other vendors display their wares in booths that span approximately 11 blocks of First Street.
Areas Serviced